Michael Schleicher managed the traditional Šlajhar property in Aich from 1901 as a landlord and general retailer. From 1906 to 1920 he was the municipal secretary and had significant social standing.
On 24 April 1919 he was arrested alongside the Mayor and two municipal councillors, and interned near Spittal as a hostage of the Carinthian government, due to his being Slovene. During the Second World War in April 1942, 69-year-old Michael Schleicher was forced to leave the area with his wife. Even having three sons in the army was of no help to them. 
Border zone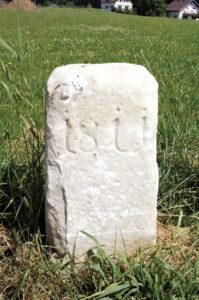 Aich is divided between the political constituencies of Schiefling and Velden. Pastorally, it belongs wholly to the Augsdorf parish. There is a tradition of border complications. In 1809, Austria had to relinquish part of Carinthia to France, with the border being drawn through the latter municipality.