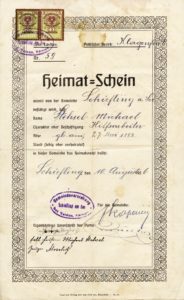 From 1943, partisan groups operated in the Turiawald forest and found support among the population, also in Ottosch. Soldiers on home leave deserted and joined them. Arrests followed.
In November 1944, Simon Allesch from Auen and Max Sucher from Albersdorf refused conscription into the territorial army and were committed to the Dachau concentration camp. Sucher did not survive his internment.
Michael Stehsel from Roda was murdered at the Lublin-Majdanek concentration camp, Sebastian Wiltschnig at the Neuengamme concentration camp. Without a memorial, the memory of them has faded over time.