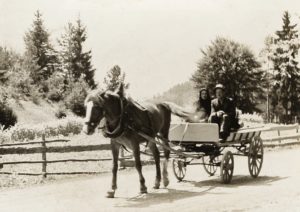 Until the early 1950s, many roads were unsurfaced and had to be maintained painstakingly by roadmen. The material for this came from small quarries such as those owned by the Manužnik family.
Until 1923, Keutschacherstrasse to Viktring was completely barred to car traffic. Süduferstrasse, the road along the southern shore of Lake Wörthersee, only allowed a maximum speed of 15 km/h. In 1928, the Techelweg innkeeper Zep Perdacher bought a bus.
With the spread of road surfacing, the profession of roadman disappeared and new professions emerged. In 1955, the first taxi company was founded and in 1961 a petrol station opened in Schiefling.