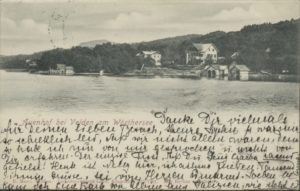 Tourist accommodation was first offered in Auen in 1901. The summer guests usually stayed several weeks. Their presence changed the economic fabric and the use of language locally.
In the mid-1920s, a new type of holidaymaker enlivened the lakeshore. The Paulinenheim, Waldhaus and Prüggler villas exclusively served tourists.
From 1938, the tourist areas declared themselves as "free of Jews" and Nazi organisations arranged group trips to Carinthia as the precursors of mass tourism. The bombing of Carinthia in 1944 brought this development to a halt.